Getting Close with Rahquise Bowen and Ahmad Kanu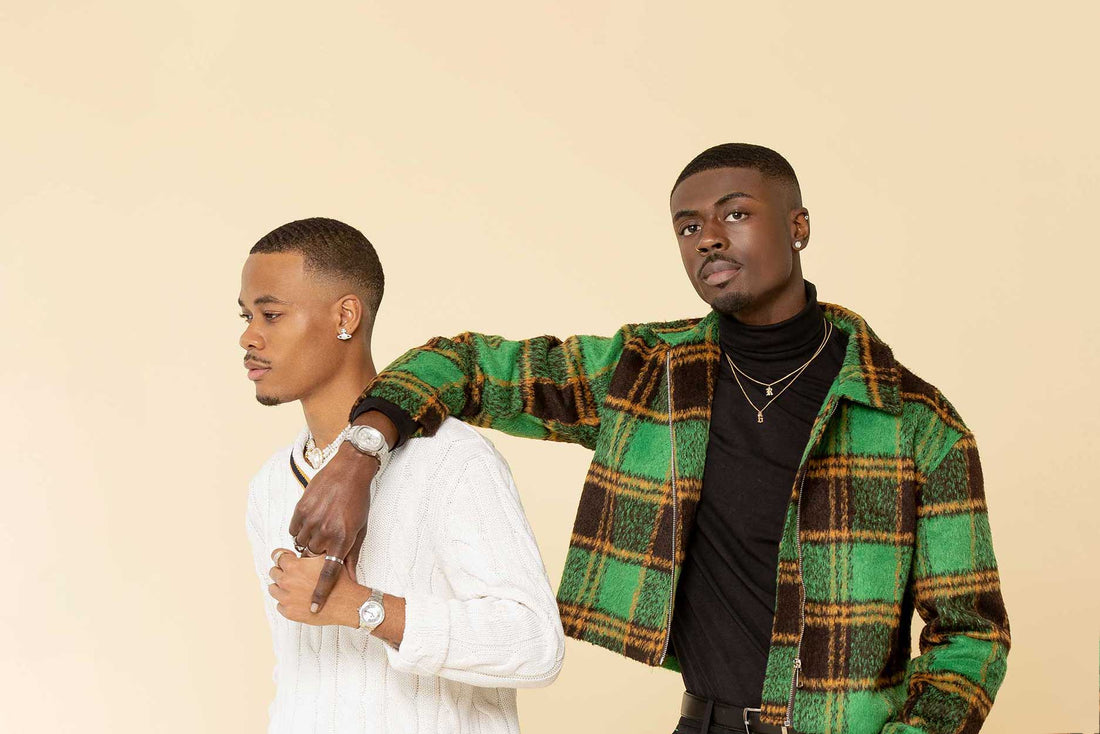 This Valentine's Day, we're admiring one of our favorite creative couples, Rahquise Bowen and Ahmad Kanu. The Los Angeles-based pair, both models and content creators, exude 'couple goals' while encouraging one another to grow as creative forces, and, of course, collaborate in the process. We sat down to chat with them about life, love, and mixing business with pleasure.
How did you two meet?
Rahquise: We met in 2019 on Tinder. I was traveling back and forth from Syracuse to New York City for work. I happened to be scrolling on Tinder at my friend's apartment in Brooklyn and ran across Ahmad's profile. I'm having deja vu as I'm writing this!
What drew you to one another?
Ahmad: I would have to say Rahquise's sense of style drew me to him. On our first date, he wore this really cool Burberry hat that always stood out to me. Fashion plays a big role in my life, and having someone who understands and carries themself well reflects my character, so it was no brainer that I would be drawn to him.
Rahquise: Besides Ahmad's beauty, I'll have to say his personality and vibe. I knew from our Tinder conversation alone that we would have so much in common when we met up in real time. We shared similar passions, hobbies, sense of style, up-bring, and even had the same birthday!
What do you admire about one another?
Ahmad: I admire how hard working and driven Rahquise is. He's always pushing for more and not wanting to settle for less.
Rahquise: In general, I admire how Ahmad is always willing to go above and beyond for people he loves. Even how polite he is towards citizens he doesn't know. Creatively, I admire how passionate he is about being a creative, and chasing his dreams, with or without representation behind him.
What's it like collaborating? Do you play off each other's strengths?
Rahquise: It's always amazing being able to collaborate with my partner because he just gets it! We play off each other's strengths, especially when we're on set. We really enjoy meeting people, making connections, and executing what we're booked to do with a positive attitude.
What's your working relationship like?
Ahmad: Working with Rahquise is the best. We're always brainstorming new ideas and wanting to take our content to the next level. I couldn't ask for a better business partner.
What do you each love about working in fashion, and what do you hope to see change in the industry?
Rahquise: I'll always have a relationship with fashion and being able to express myself through fashion. I love that the industry gives me a platform to express myself, and to create representation for my community. I would love to see more POC and LGBTQIA+ representation within the industry. Also, I would love to see model couples on runways…
Ahmad: Since I was a kid, fashion has played a role in my life, so as an adult, I love that I have made a career out of it. As the world changes, so does the industry. I love that we are now seeing more representation within the LGBTQIA+ community. We still have some ways to go, but I love that a door has opened.
What's the best part of working with each other, and what's the biggest challenge?
Ahmad: The best part would have to be at the end, where we can sit back and take in what we just accomplished together. I don't like to play on the zodiac signs too much, but with us both being Leos (and me having Virgo rising) we can be perfectionists. That tends to get in the way, because we will do a million takes before we're actually satisfied.
Rahquise: The best part about collaborating is that we get to share our ideas and execute dope content. Our biggest challenge is overthinking and procrastinating. Sometimes we underestimate ourselves, but this year we have so much in store!