SALLAD: Sharing the film from Dallas to NY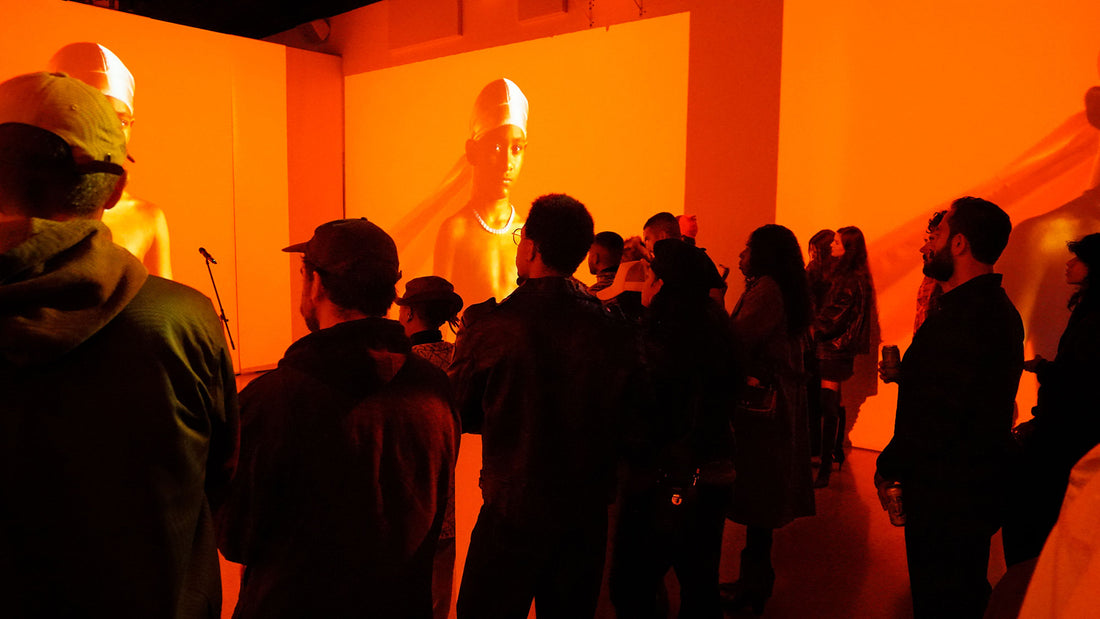 Photos by Jiraurd Key
As far as we are concerned, you don't need to look much further than Dallas, Texas to find otherworldly talent.

In late 2020, Tramaine Townsend, Hance Taplin and Jai Midget proposed a short film that would showcase various creative communities in the Dallas metroplex and feature JBW watches. Townsend has always explored the concept of time in his work, so the partnership with JBW seemed like a natural fit. Their early conversations just scratched the surface. Communicating the depth that would be captured along the way, the people that would end up being highlighted, the connections that would be forged, and the audiences that would be reached. That's the beauty of time, it lets ideas unfurl, develop and grow along the way. 

What started as a secretive project with a name people had a knack for mispronouncing turned into a short film that was screened in Dallas at the Kessler and Texas Theaters, SoHo House Austin, a handful of film festivals from New Orleans to Los Angeles and finally, Lume Studios in New York City. After a journey around the country, Townsend is ready to share it with the world. SALLAD, pronounced like the dish, is now streamable for the first time, letting the public into the world of Black power,  joy, and the well of art and culture that is Dallas, Texas.
You'll find that there is a certain protectiveness for the city that people who live and create out of Dallas carry with them. It probably comes from the many narrow stereotypes that persist, dismissing and hiding the breadth of realities and scenes that exist here. For that reason, SALLAD quickly became a love letter to Dallas, an ode to the artists who personify the beauty and joy that have kept Townsend in this city thus far— a capsule of proof, elegantly stating to the rest of the world, "We out here."

When Townsend set out to write the last vignette Epoch in the film, he knew exactly where he was going to start –  A young boy, dawning a durag, a pink durag. Like a cape. 
"I knew when I wrote it, that this scene has to be powerful. A moment where people would be in awe of it, especially Black people. They would see it and be like, 'damn'."
The child, representing Townsend's childhood and young Black boys at large, is Townsend's young brother-in-law. The closing scene of SALLAD is a striking image, a scene that the viewer will remember. The bright red background, the pink durag exaggerated in length blowing in the wind and a kid staring right at you, commanding your attention and making you pause. 
"I wanted his expression to be very stoic..I wanted people to feel something…like you're looking at me and at the same time...just like I'm out here and I'm powerful no matter what. A look into my nostalgic past and a formidable future for Black youth simultaneously."
This child, in this moment of pause is all about being present in the moment. But Townsend acknowledges the intertwined nature of the past, present and future. This boy creates a new hero image, stamping a close to a time when Black kids looked at comic book or cartoon heroes and didn't see themselves.  
"That's why the scene is so long. Gaze at this child and realize that he can become something more than what you're seeing right now. Breaking the negative stereotype of people seeing a misguided kid wearing a chain and a watch, to someone that will change the world one day…however he identifies, this child has a bright future ahead. This is the beginning of his journey."

The pacing of the film forces the audience to slow down, Townsend and his crew used slow motion throughout the filming process, rebelling against the pace at which we have become accustomed to consuming media at.

"Let's just really focus on this moment…because it's a beautiful. It's opulence." 
The moment that Townsend knew he had made something really special came when he shared the film with his younger sister for the first time.

"When she watched Era with Mattie.. she teared up and cried…I knew I made something great at that moment. She told me right afterward, 'That hit me so hard.' At the time she was going through something and the song just affected her so deeply."

Mattie Calloway is a Dallas-based singer, hair stylist and hair educator specializing in curly hair. Her spellbinding song "Slow Burn" debuted in SALLAD. 

"I was hoping that other people would feel that too…there have been a couple occasions where people came up to me in tears after the film or expressed it in our Q&As. Those moments I'll always remember. After all the work we did over the course of that year, editing it together and all, it was great to see how that reaction happened. I remember thinking, "Damn, okay, cool. You broke into another level with this film."

The process of sharing one's work is different for each artist, but for the final screening of SALLAD, Townsend knew he wanted to showcase it in a gallery setting. This would be the last time he would be able to sit, listen, and observe the audience's reactions to his work.
The day began with two intimate screenings, the film projected on 13 foot tall displays surrounding the viewer from three sides and transporting them to a world from Tramaine's point of view. 
To wrap up the night, and the journey JBW and Tramaine embarked on so many months ago, we packed the studio with friends, family and industry folks to view, discuss and celebrate the art piece that is SALLAD. In true Texas fashion we made sure to showcase Texas talent. 

The roster for the evening included, a performance by Dallas-based artist Angel White who appears in the film performing his unreleased song "Storm" followed by Dallas-bred producer and DJ Brandon Blue who closed the night out with a curated blend of Travis Scott, Yak the Mack, Kendrick Lamar  and Yves Tumor, keeping Texas top of mind for the crowd and once again reminding the NYC audience that the talent coming out of Dallas sounds just right sitting next to Grammy winners. 

In reflection of the journey, Townsend is ready to share his point of view as a Black visual artist in Dallas and beyond. Ready to pursue what is next for himself, his fellow creatives, and generations to come who will tell their own stories.

"I just want to show culture, Black culture. There's an undeniable beauty…it's not to say that we're the ones that started it because we have obviously been inspired by our heroes before us. They've built the groundwork enough for us to have this moment, and now we're taking those platforms already built and telling our own stories. I feel like harmony will always be a part of our Black power. I know that for me, the movement will be about recognizing our past, being present in the moment, while building and creating for the future."

Thank you to United Sodas and Ghia!