Enter the Time Loop: Meet Arc by JBW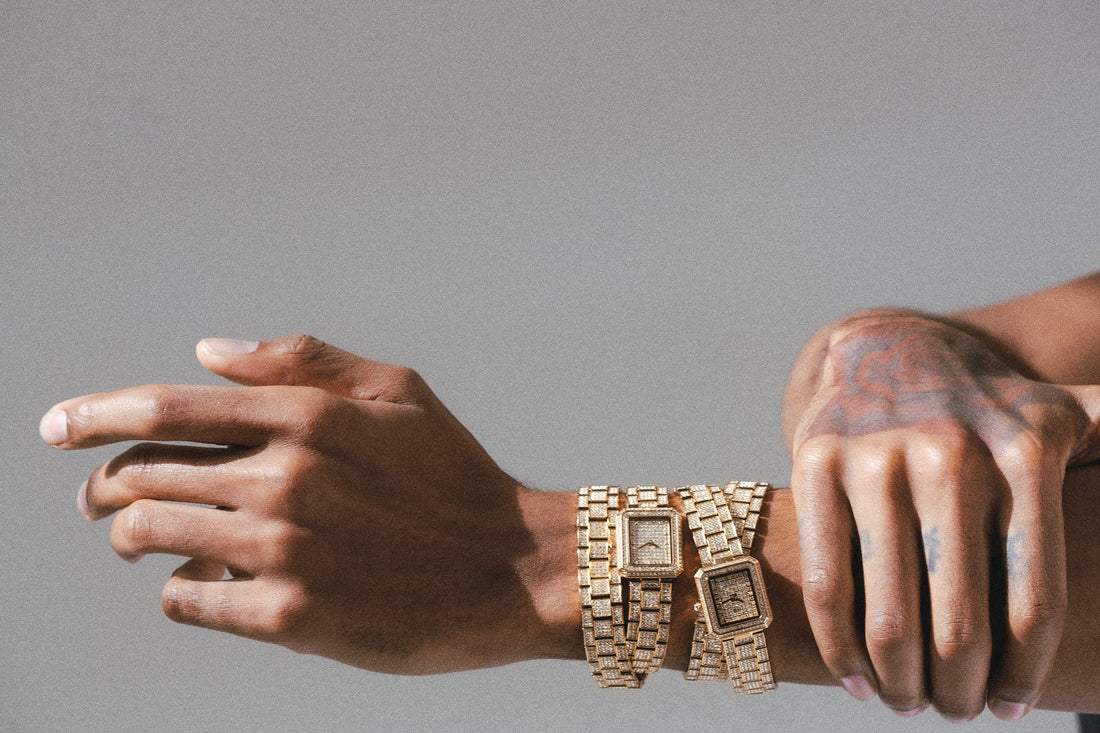 JBW is moving in a new direction. We're always evolving, refining, leveling up so to speak – but the arrival of Arc, the first collection released by JBW in over two years, ushers in a new era for the brand. It's a play on scale within JBW's design catalogue, and it's also the first unisex watch by JBW. It's a modern icon designed for everybody, and that's just the beginning of what makes this collection so special. 
While it's a groundbreaking piece for the brand, it wasn't intended to be quite so different from the typical JBW design. Design Director Efrain Villa says that the idea for Arc began with a desire to create a timepiece that felt like a piece of fine jewelry. 
"Originally, it wasn't supposed to be a unisex watch, but more like a jewelry piece that was a little hidden, under the cuff," says Villa. "It still had the statement of JBW but didn't have that statement as a size." 
To accomplish this, the JBW design team started with the smallest movement they could find. This led to the design of the striking, jewel-like 23 MM case, the centerpiece of the entire Arc collection. Building from that, the designer created three variations to suit various occasions and personal preferences: Arc Leather, a lightly embellished case with a classic band; Arc Single, which also features the lightly embellished case with a crystal-covered bracelet; and Arc Double, with the case fully veiled in crystals and punctuated by a double wrap bracelet. 
"We played around with a cleaner look – you get that with the leather version. To me, that is the most understated watch we have," says Villa. Next, he came up with a flashier version with the Arc Double. "We let the band be that part that was overstated. We wouldn't want there to be like this big disconnect between the leather and the metal wrap, so we had something in the middle that caters to both a clean aesthetic, and also having that glitz that you would see in a tennis bracelet."
When all three timepieces started coming together, Villa saw the true potential that the design had to expand JBW's style range. 
"It didn't have that shape or feel that leaned more feminine or masculine. We thought that this could be a good model to work off of, and jump into that area. With Breda [JBW's sister brand] doing the same transition, we felt like maybe this would be a good spot for Grand Time to be more fluid in that sense," he says. 
While the Arc collection is smaller, and, in some ways, more neutral than the typical JBW timepiece, it's no less impactful than the brand's largest styles. In fact, the understated nature of Arc is one of the things that makes it stand out most. 
"I think that design versatility is one of the biggest things that we're trying to tackle," says Villa. "It can be both a unisex watch, and it's a piece that can be dressed in any way, for whatever occasion. I think as the collection grows – and we definitely intend to keep growing it – we're going to discover what a RESERVE collection might look like…There's definitely a lot of flexibility with just the overall design."
As Villa explains, the next chapter of the brand will bring similarly flexible and versatile collections without sacrificing the individuality and boldness which JBW is known for. Arc is just one facet of JBW's future movement. Click here to discover why we're obsessed with the new silhouette.