Fast Times with Julie Vigorito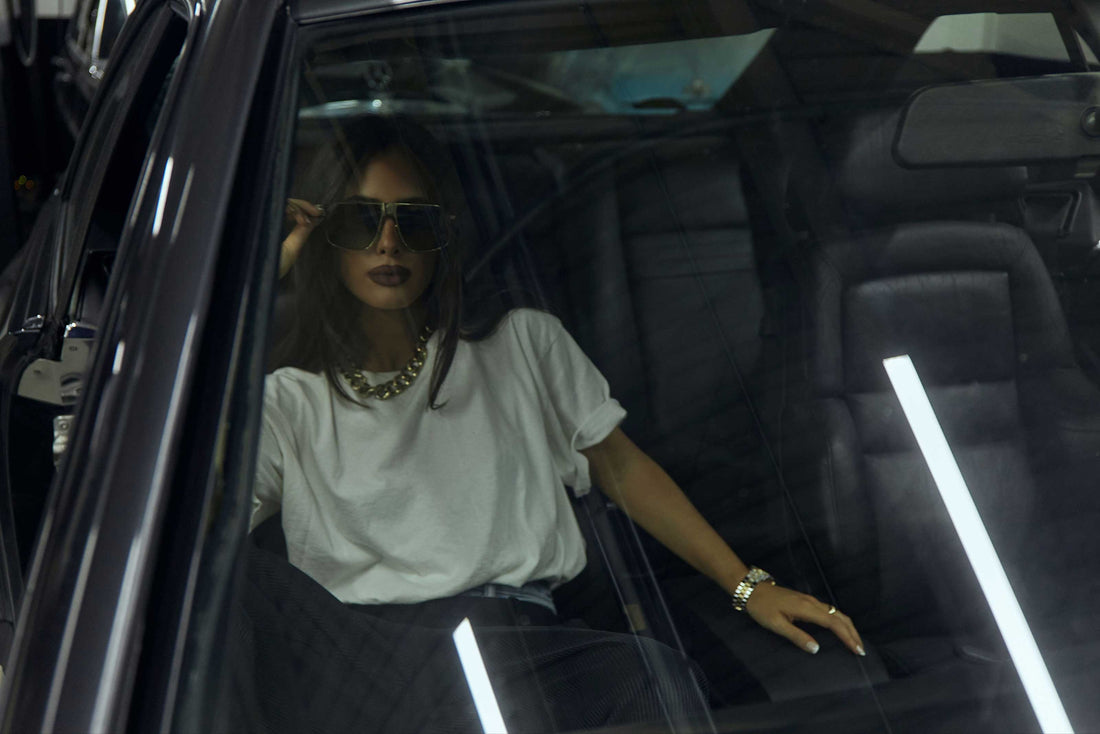 Julie Vigorito doesn't look like your average car buff. Don't be fooled, though; when it comes to automotive knowledge, the 23-year-old Long Island native will lap you in no time. Growing up attending car events with her father, who owns a dealership, Vigorito garnered an interest in the artistry of cars early in life. It wasn't until she left her job in fashion and combined her love for documenting her life with her love of cars that she really switched into top gear, though. 
She took us for along for the ride at Long Island's Autosport Designs while rocking her two-tone Cristal 34. 
Introduce yourself.
My name is Juliana, but everybody usually calls me Julie. I'm 23 years old. I grew up on Long Island, New York. I'm currently based on Long Island, but I'm always back and forth between Long Island, the city, and the Hamptons.
What does a typical day look like for you?
When I wake up, I have a glass of water, meditate, stretch, then check my phone. After I'll workout,  make breakfast, answer some emails, then get ready for work and, depending on which day of the week it is, I'll either go out to create content or I'll head to the car club and plan events.
How did you get into content creation and cars?
I grew up an athlete, but unfortunately, when I was in eighth grade, I found out that I had a heart condition, so I had to stop...When I moved to the city for college, I chose to work in the fashion industry, which I knew absolutely nothing about. That's kind of when I started to develop my own style and post for fun on Instagram.
I grew my blog for two years… I came to the realization that [working in fashion] really wasn't for me, I felt this piece of me missing, which was cars. I've been going to car events all of my life with my dad, and going to those fashion events kind of made me miss the car scene.
Do you work with vintage cars specifically?
At the car club, it's more luxury, modern, exotic cars. Once I started working in the industry, I learned more about vintage and classic cars, and I instantly fell in love. Vintage cars are so unique with their shapes, colors, interiors, just everything. They really don't make them like they used to.
What draws you to cars?
I grew up in the industry from my dad, he owns a car dealership, but for fun he would always attend different car events which I was lucky to attend with him. His love for speed truly rubbed off on me which is why I wanted to work in the industry. 
How I see cars, in general, it's kind of like everything in one. It's transportation, it's engineering, it's music, it's furniture, it's technology. It's just so fascinating to me. I grew up looking at them as art, you know, going to these events with my dad, they were always on display. I never looked at it from an engineer, or a mechanic point of view. I always saw them as art.
What's your dream car?
That's the hardest question anyone could ask. It's close to impossible, because every car is so different in its own way. I do have a few favorites though, which are the Lamborghini Countach, which is just an iconic car; I really love the Ferrari Daytona; I love the Bugatti EB 110. These are all vintage. If I had to pick a modern one, like an everyday car, it would be the Mercedes G Wagon.
What's your experience been like as a young woman in a male dominated industry?
There's no doubt there are more males, but for me, I've honestly always had a good experience in the past. You wouldn't see a lot of women in the past, but I feel like now the ratio is growing, which I really love to see. 
I've worked in different locations in the automotive industry and I've never had a problem. I've always gotten respect. I'm always thinking big at work, pushing boundaries, showing my talent. At the end of the day, I know that cars are my true passion, just as much as any male has that passion.
How would you describe your personal style?
It's definitely unique. I would say it's very mood based. How I feel when I wake up decides how I like to dress, the music I'll listen to that day, what car I'm into, or what car I want to take a photo with. One day I could wear something super baggy and be in vintage cars listening to R&B throwbacks, and the next day I could be totally wearing something more elegant researching modern luxury cars.
What are your favorite ways to wear your Cristal?
I prefer dressing it down, because it's more of a luxurious piece, for sure. When you see something more high end, you instantly think that you have to meet that requirement–like, okay, I have to wear something super nice with this incredible watch. So, I like to dress it casually, whether it's a sweatsuit, or jeans and a baggy t-shirt.