In the Studio with Artist Rafaella Braga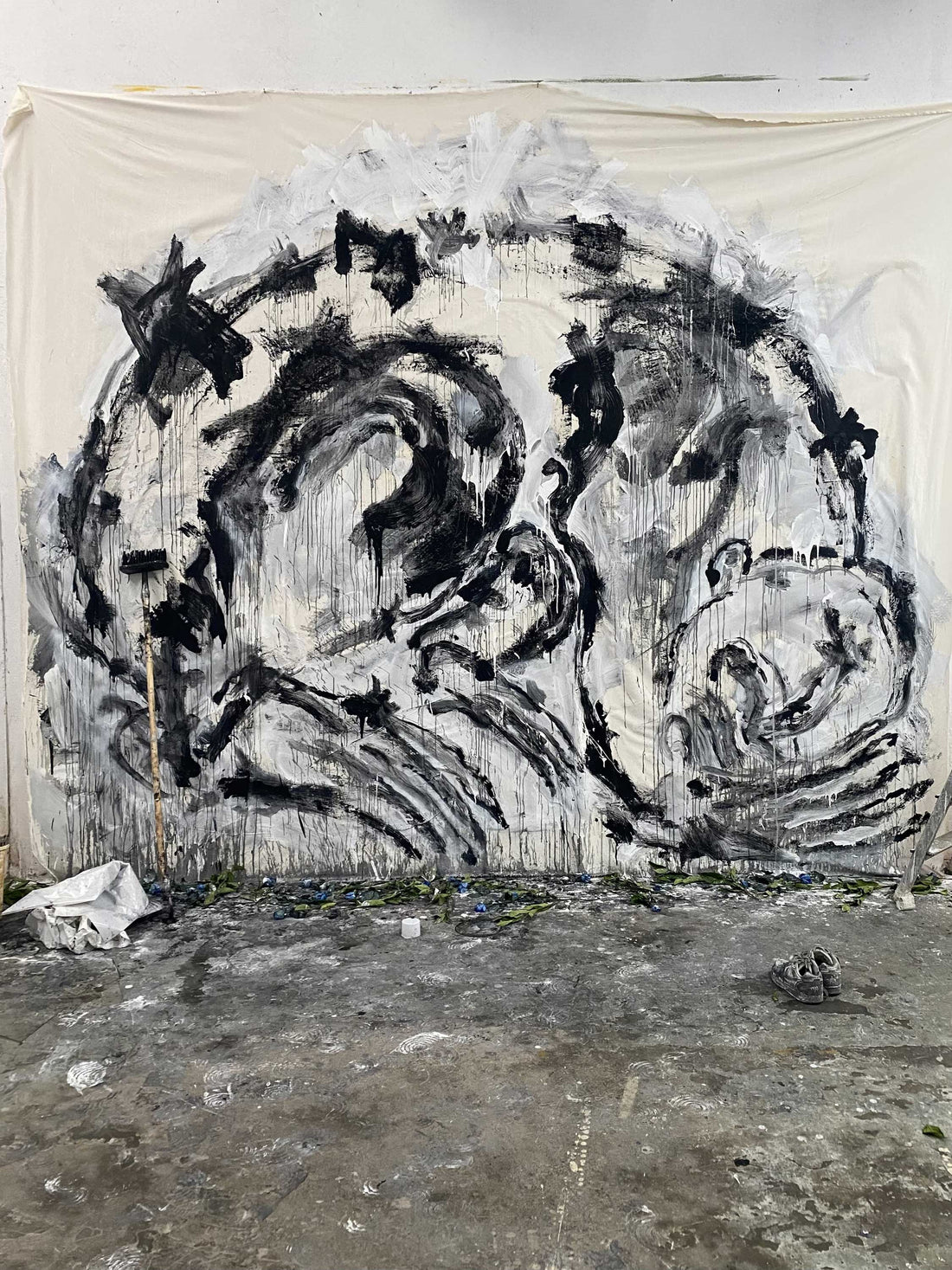 If you were to stumble upon the work of artist Rafaella Braga on Instagram, the first thing you'd notice may be the scale of her work. The 23-year-old Brazilian painter expresses her visions on massive canvases that span entire walls with chaotic strokes, paint drips, and distorted figures. For the Berlin- and New York City-based artist, painting is a spiritual practice of self-reflection and release – something that rings clear through the emotional nature of her pieces. As she prepares to open her fifth solo show and first exhibition in her home country, titled "Céu da Boca" (roughly translated as "Roof of Mouth"), we caught up with the artist to talk inspiration, process, and how her personal style translates onto the canvas. 
Rafaella wears the Cristal 28 in silver. Click here to shop her look. 
How did you get interested in art?
I've always had this visual thing, but I started to really explore it at age fourteen with street art, which later led me to research other fields like performance, sculpture, and then painting, which has been my main field for five years.
How would you describe your artistic style, and how did you develop it?
I use my work as a tool for change, projection, and manifestation. Looking at my paintings to reflect my own presence, addressing my physical, psychological and spiritual experience, representing the body at its most vulnerable. In this way, I approach my painting process as a spiritual ritual, looking beyond beauty standards and thinking more about the experience and transformation that come with it.
What's the biggest inspiration for you when creating? What's the biggest challenge?
Life itself. My work is my cure zone. A diary. A magical space full of fantasy that I can access in my studio and get in touch with giant beings that help me deal with my heart's subjects. The biggest challenge is to balance all these feelings, events, and thoughts that appear during the process to be able to translate it in the purest way possible.
You have a distinct personal style as well – how does that play a role in your artistic practice or empower you as an individual?
I'm very influenced by Y2K aesthetics, and one thing that comes from that and I can notice in my work is the up-cycling. Like with my clothes, I dye, cut, sew, and add different fabrics to the canvas. 
Can you tell us a little bit about what you're currently working on? 
Right now I'm getting ready to open my fifth solo exhibition. "Céu da Boca" opens on the 21st of May in Brazil and will be my first exhibition in my own country.
What are your dreams for your artistic practice?
My next goal is to do an entire exhibition with just my monumental canvases in an institution that aligns with my values. And in the long term, to continue creating something that is honest with who I am and makes all the fantasy present in my work contribute to a better reality, bringing out the magic and confidence in myself and others, and building a future full of abundance in all shapes.