Inside the Mid-Century Modern Retreat of Creative Chris McKnight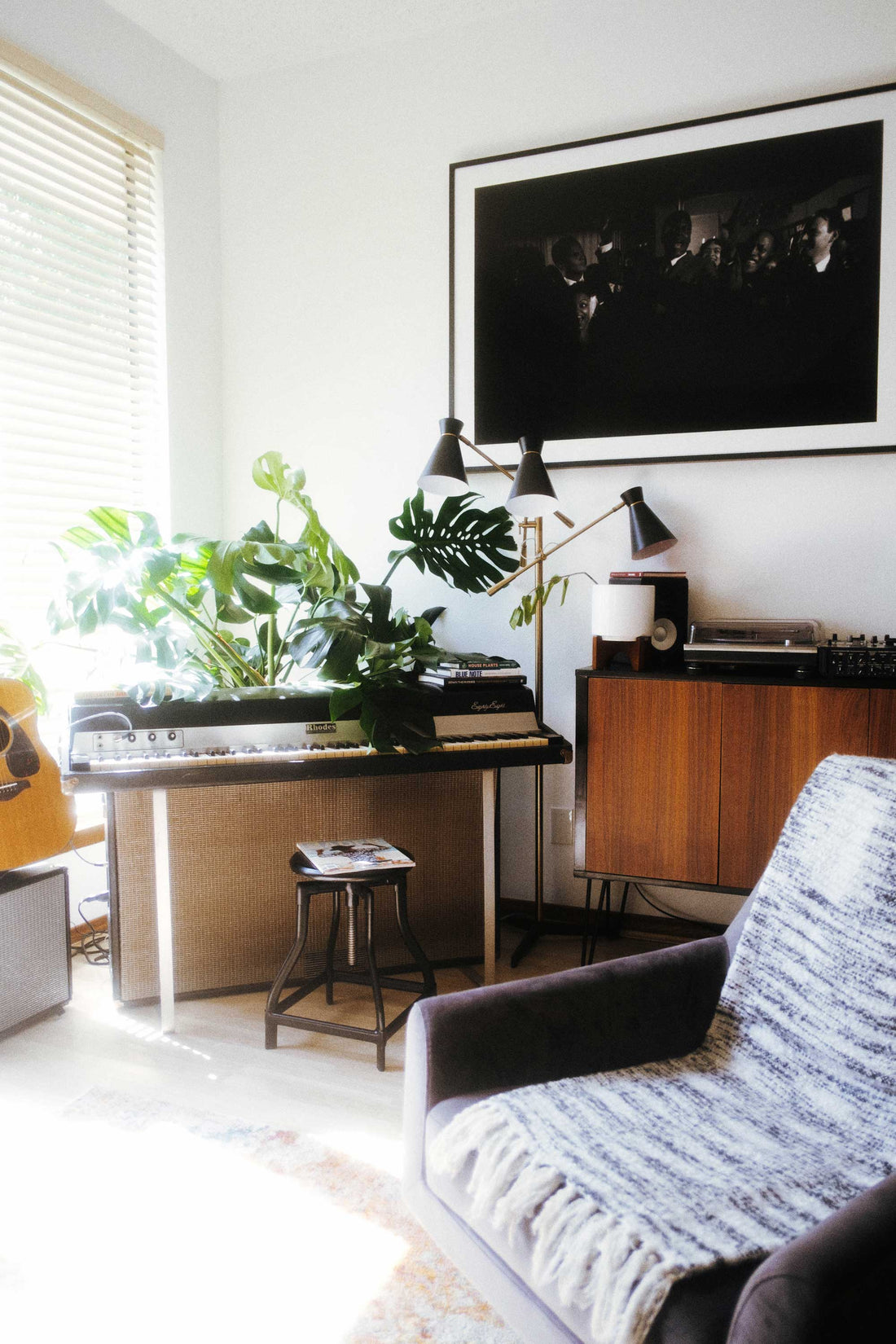 True style comes with time and experience. That's the case with multi-hyphenate creative Chris McKnight, who has curated his mid-century modern Dallas home one piece at a time, inspired by his experience as a creative, as well as fellow creatives in his local community. He invited the JBW team inside his space to chat design, inspiration, and the importance of taking your time with the things you care about.





Tell us a little about yourself.
My friends know me as M*Knight, my real name is Chris McKnight. I live in Dallas, Texas, I've lived here for over half my life, I'm originally from Mississippi.
I'm known as a DJ and a photographer. Everyone who knows me knows my day job–and I'm a part owner of that company too–I'm an IT concierge, IT and AV installs and consulting, and I'm also a dad, so that's another job.

Your home is filled with interesting objects and details. How would you describe your style?
Mid-century modern meets contemporary meets a little bit of early '80s.
I hit up vintage shops, I live on Pinterest, and I try to find things that are within my budget. I don't have an Eames chair, but I have something that looks like it. A lot of these things are just things that I found that I like, they don't have the name, but they're things I like. And then there are a lot of pieces from local artists.

It's a great art collection. What do you look for when you're buying art?
When it comes down to art, I didn't want to be one of those people that just bought generic pieces. Over time, meeting people here in Dallas, I learned about these great artists, so pretty much the bulk of the art in my home is local Dallas artists.
That piece there is by Riley Holloway, I really love his work. I was fortunate enough to get a couple pieces from him before he really started taking off, so I was able to get them for a decent price. Now–phew–his stuff is up there. But I'm going to get another one one day.

What inspires your own work when it comes to photography?
I like shooting people. I do like a little bit of glam–I grew up a magazine junkie, so I like a little bit of glam. That's what really inspires me. I like shooting portraits of people, I'm not a documentary style photographer. I tell a story to a degree but I like creating things that have a pop of color and appeal to people's eyes.

How have you learned to manage your time to maximize creativity over the years?
I've actually learned to schedule everything, including rest, sleep, etc. I even schedule out time to go meet a friend for a drink or whatever. I schedule everything to make sure I'm not overloading myself in one way or another.

What advice would you give to your younger self?
I definitely would tell my younger self to take my time doing things, but you don't need to procrastinate. Take your time, but don't procrastinate. I know that sounds odd, but there are things I procrastinated on that I wish I wouldn't have, there are things I should've done that I didn't, and there were a lot of times that I wish I would've slowed down and just said, you know, you can rest, because you will wear yourself out and you don't want to do that.
There are no design emergencies. Finish your project on time. Spend time with your family. Rest. And create no matter what.