Motherhood and Music with Spinderella and Christy Ray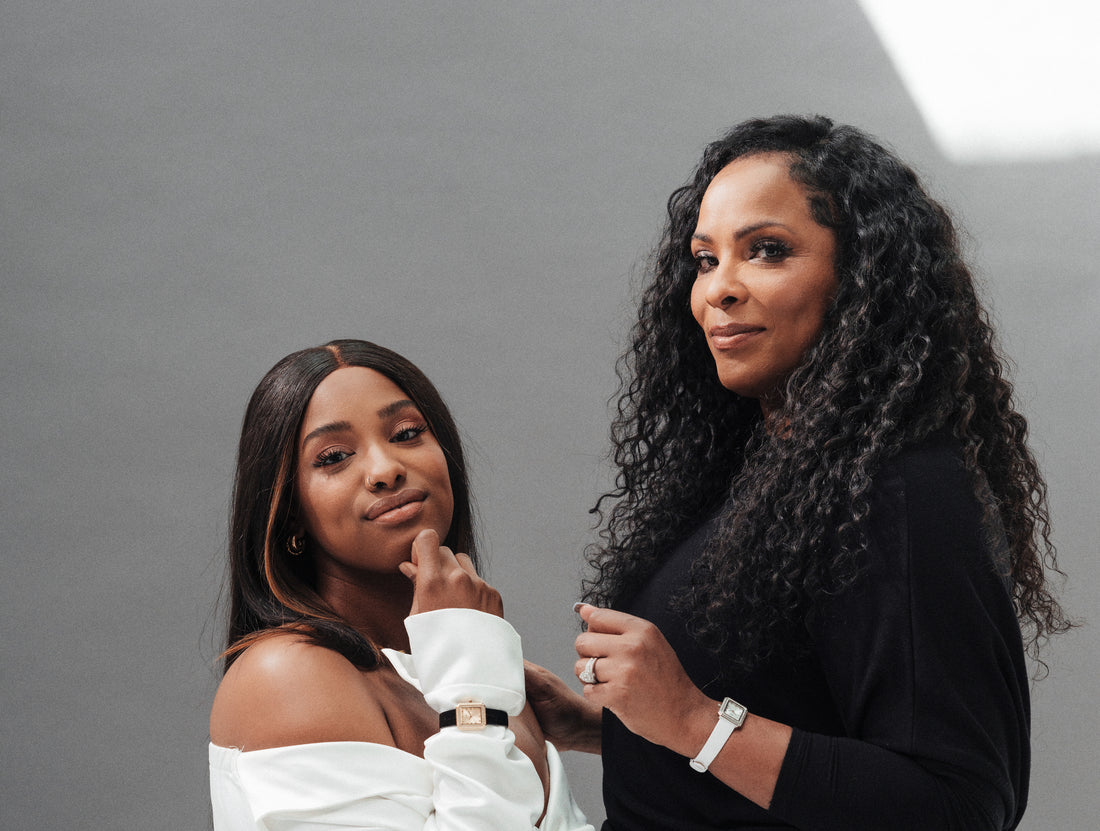 The energy between DJs Spinderella and Christy Ray is contagious. If you've seen either DJ perform individually, you'll get a sense of the feeling – joy, wit, that undeniable cool factor. When they walked onto set for this photoshoot together, though, the room filled with laughter until they walked off. They encourage one another, crack jokes (sometimes at each other's expense), struggle to keep a straight face for the camera (we're glad they didn't). It's the type of love that can only be exchanged between a mother and daughter, and is rare even then. It seems that they've come to understand one another as not only family, but best friends. 
"She's me, but the next generation," says Spinderella. "We always laugh about how much we're alike. I mean, she's an individual, but I see me in her. I'm like, 'Don't fight it, embrace it!'" 
The music icon, who broke out in the music industry as part of female rap frontrunners Salt-N-Pepa, is glad her daughter followed in her footsteps as a DJ. Christy remembers her mom teaching her to spin vinyl when she was just 11 years old. 
"I was like, 'This is cool, but I think I'm gonna go and play outside on my Razor scooter.'
It wasn't until college that she took an interest in pursuing DJing, and it wasn't until a couple years of working post-grad in a corporate job that she decided to take DJing full-time. Christy says she's thankful her mom let her come to the profession on her own terms. On the other hand, Spinderella is proud of her daughter's independence. 
"Christy is very strong minded, she's strong willed. She has her own direction. She's super independent. An example of that is, I'm Spinderella, and she never uses me in the capacity that she could. I just think that's pretty dope of her to stand on her own and not use her mom's value to benefit her. All that she's gotten, she's gotten on her own," she says. 
It's not a coincidence that Christy sees the same strong willed qualities in her mother. 
"She is so direct, and she really shows up for herself and advocates for what she wants and she's really taught me to do that for myself," says Christy. 
Both women agree that the process of becoming a mother only deepened their strength and sense of self. 
"It made me look at life differently. As far as working, it just made me push harder. It made me have something to live for," says Spinderella "I felt like once you have a baby, there's a strength that women have that comes with it, an innate feeling of strength."
 For Christy, the birth of her three-year-old son, Tatum, was both world-shaking and self-affirming. 
"You're forever learning how to be someone's mom, but in the beginning, I felt like I didn't know what my identity was anymore," she says. "Eventually I just got my footing again. I did deal with some pretty bad postpartum depression. Getting through that and finding myself again, finding who I am as a person has really allowed me to embrace both sides…Now I feel like I couldn't have one without the other. He gives me purpose and meaning to kind of strive to reach my goals."
Now that she's gotten the hang of motherhood, Christy sees things a little differently than before. She says that finding her identity outside of being a DJ and being a mom has helped her become better in all areas. Of course, becoming a mother also put some lessons from her own mom into perspective.
"Having a kid doesn't mean you have to stop following your dreams. That's kind of what my mom showed me. She took me with her to her photoshoots, she would take me with her to award shows, and I would tour with her sometimes," says Christy. "I realize now that watching that has allowed me to now see in a different lens my childhood, and what I want for my son. Knowing that you can do what you want, you can achieve your dreams, and also still take care of your responsibilities. It doesn't have to be one or the other."
In other words, motherhood comes first, but goals don't necessarily have to take a backseat. Listening to the two women speak about each other, Tatum, and their careers, it's clear that family is merely an extension of their dreams. 
"The minute that I had Christy, my life changed. It was for the better, of course," says Spinderella. "You see things through a microscope. You're completely immersed in responsibility. It was scary, but also the best thing that ever happened to me, motherhood."