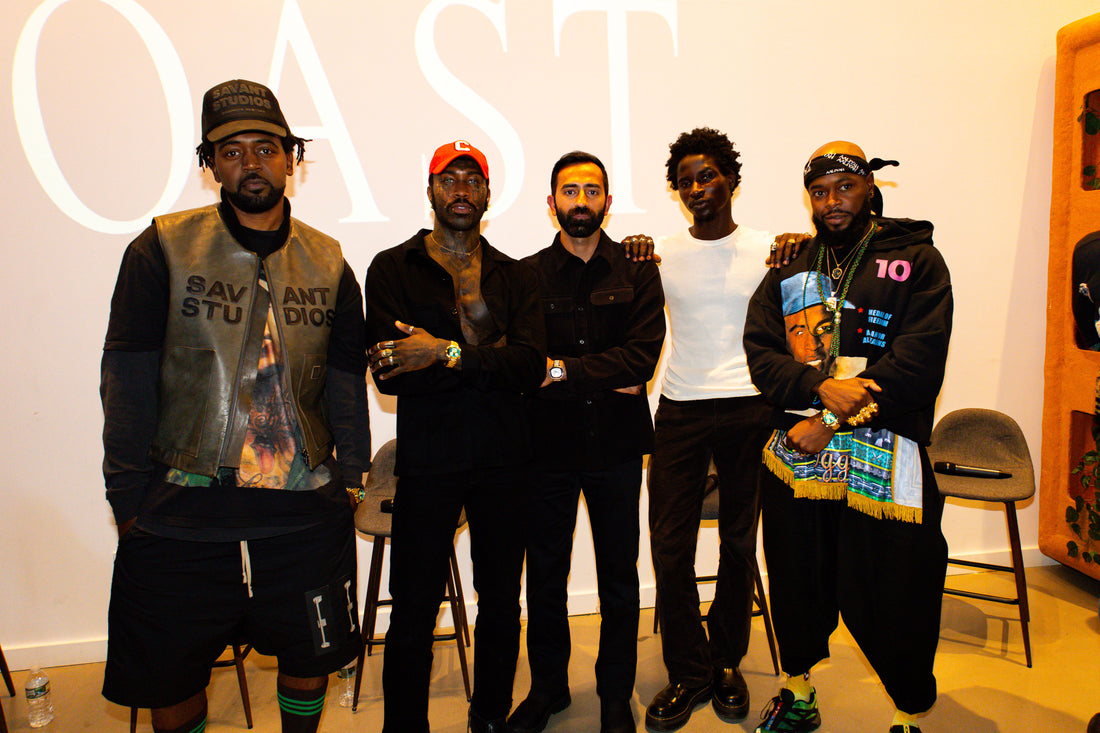 Celebrating JBW's Fall '23 collection with a night of discussion and dancing.
In honor of our latest men's collection, Coast, JBW headed to Brooklyn, NY for a night of conversation and celebration. We explored the intersection of style, resilience, and camaraderie in the business & fashion industry via a discussion panel and party.
The panel titled "Style, Strength, and Solidarity", featured four Brooklyn-based creative entrepreneurs who we felt have been making an impact in the fashion industry. Each panelist told a unique story, revealing the methods, problems, and important moments that have shaped their lives. We found a diverse array of experiences, techniques, and perseverance that have helped them to negotiate various ecosystems of their industries through their enlightening narratives. This forum not only provided a venue for them to celebrate their accomplishments, but it also acted as a source of inspiration, creating an environment in which the collective wisdom of these great men sparked aspirations and guided others on their own incredible journeys.
Yves Mathieu-East, a 29-year-old hailing from Flatbush, Brooklyn, leads a multifaceted life as a full-time model and musician. Not only does Yves have a thriving career, but he also dedicates his time to making a difference in the lives of others. His unwavering passion for civil rights and commitment to issues affecting BIPOC, trans individuals, bodily autonomy, mental health, and social justice shines through in his activism. Yves is a true ally, always ready to stand up for the rights and well-being of those in need.
Johnny Nelson, founder of Johnny Nelson Jewelry, is an artist and designer of the black-owned, emerging eponymous brand. Born in England and raised in Brooklyn, his diverse artistic and cultural experiences can be seen through how he highlights and connects punk, hip-hop, spirituality in his refined collections.
Jordan Blake is a multidisciplinary artist born in Lagos, Nigeria based in Brooklyn, New York. His work celebrates new narratives about Black beauty, masculinity and style, embracing themes of self love, self discovery, and play. He accomplishes this by creating compositions that center the black body to explore color and light.
Michael Graham is the creative storyteller behind Savant Studios. The SS team has carved out a unique lane that blurs the lines between art & design and fashion. With the touch of humanity at the core of all that they produce, it's no wonder that a dynamic community of like-minded artists is being cultivated through the brand. Soul is the new luxury.
After the intimate panel, we opened the space to our Brooklyn/NYC community for an evening of celebration. We'd like to graciously thank El Silencio Mezcal and Poppi for sponsoring this evening.
Photos by Jiraurd Key