Deep Cuts: The Rhythms of Blue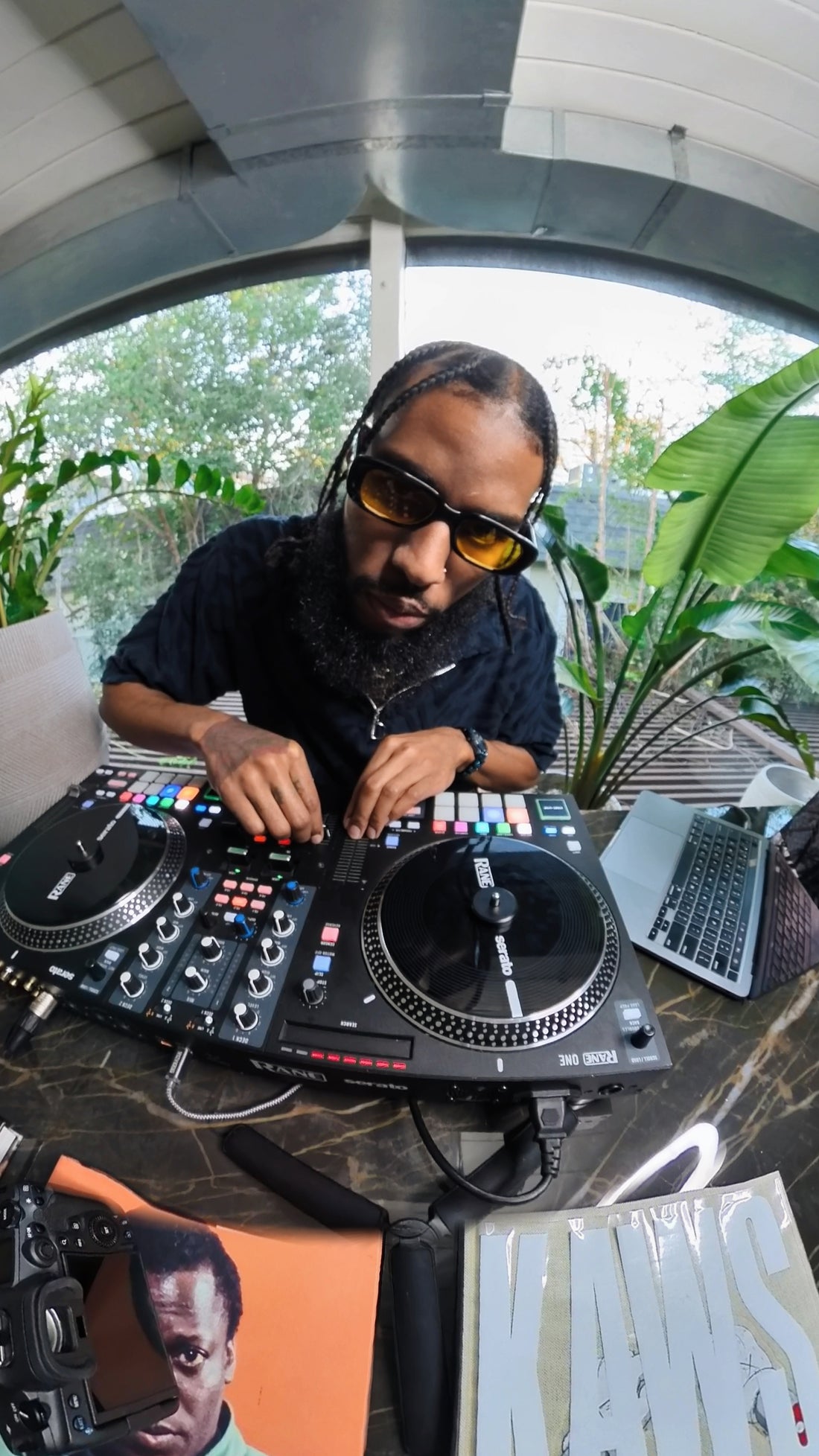 Blue at the Lorraine Lounge in Dallas
DJ, model, musician, and recurring JBW muse, Sensei Blue, is a man of many passions. As a long-time member of the JBW family, Blue has brought good looks and an even better personality to the sets of many of our brand's biggest campaigns. Blue seems to bring an innate sense of movement in front of the lens, almost as if he is playing his own internal soundtrack to the story he is acting out. For the launch of Reserve Bleu, we sat down and talked to Blue about music, his playlist for the launch of Reserve Blue, our new Reserve watch, and his time with the JBW family. 
Blue moved from Ontario, CA, to Dallas 14 years ago with his mom. He discovered his love of DJing through listening to the mixes on Dallas radio stations 97.9 The Beat and MyK104, but prior to that, the first album he ever purchased was a Run DMC CD. "This was like the early 2000s," said Blue. "While other people were buying Ja Rule or T-Pain around that time, I was fascinated with the scratching from DMC, and it made me want to find out how to do that."
Yak the Mack, Sensei's cousin, is an artist and often works with JBW, who introduced us to him. "Y'all found out I modeled; my first campaign with the company was the 2021 holiday campaign. It was cool, but my favorite campaign was the Reserve Chandelier (2022) campaign. I've been to Vegas so many times and never knew that this neon light junkyard existed."

Sensei Blue for Reserve Chandelier
Outside of modeling, Blue has also DJed a few events for JBW. So in collaboration with the launch of the new addition to the Reserve family, the Reserve Bleu, we asked Blue to curate a playlist as a soundtrack for the timepiece entitled Blue for Bleu. His initial reaction to the idea was, "Hell yeah! I'm so happy that you all picked me to do this and chose a Dallas-based DJ to curate the vibes. I am extremely excited to do this." The playlist is a mix of deep album cuts, radio hits, and Afrobeats. "I made sure to curate it so it feels like an album," said Blue.
 Alongside the playlist, Blue has provided some dope visuals for us where he is wearing the new Reserve Blue, so it's only right to ask him his thoughts on the watch. "I mean, my favorite color is blue, so the watch is most definitely my style," said Blue. "I love how blingy it is, and even though it is blue, it can coordinate with anything. It's a really cool watch. Blue for Bleu!"
Of course, being from Dallas, we had to ask Blue who his top 5 Dallas artists are (in no particular order). "It would have to be Erykah Badu, Yak The Mack, Big Tuck, Yella Beezy, and MO3." Also, because he has California roots, we asked him to name his top five Sunshine State musicians. "Of course, the top 3 are Snoop, Kendrick Lamar, and Nipsey Hustle. But, I most definitely have to throw in Suga Free, who is super underground and super underrated. Last but not least, I can't forget about YG."
Blue at the Lorraine Lounge in Dallas
Sensei Blue can be found at Dallas's popular cocktail and dim sum spot, Neon Kitten, DJing every Thursday and/or Friday. Be on the lookout for more DJ mix reels from Blue via his Instagram, @thesenseiblue. And make sure to check out the playlist Blue has curated for JBW below and the visuals via our JBW Instagram page, @jbwwatches.