Inside The RESERVE Chandelier Campaign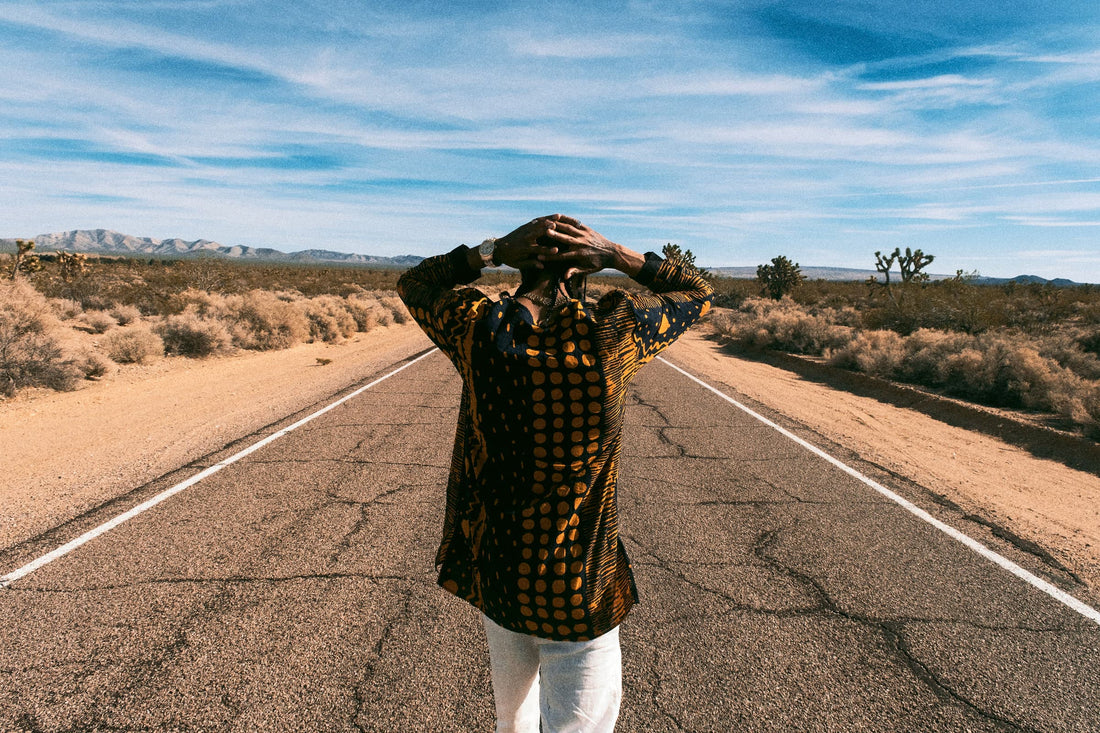 The campaign for the new, limited edition RESERVE Chandelier didn't turn out exactly as planned – and that's part of the beauty of it.
Starting with the idea, "Instinct is everything," the JBW creative team was inspired by the power of intuition, which led to a photoshoot in the sprawling desert of Nevada. Here, they wove a story of discovery centered around JBW model and muse Sensei Blue as he wandered through the desolate landscape. Naturally, the shoot threw a few curve balls to the crew (a critical team member came down with COVID and couldn't be there, for one). Luckily, their artistic instincts are razor sharp. 
"I don't like to come to a shoot and have a whole structured timeline of the shoot, because you need the time to feel out everything, to let things take place in their own way. I feel like I treat all of my shoots with that," says Director of Photography Kalan Briggs. "You can't really control it all. It's like a test of instincts all the time."
"I think you develop a relationship with your instincts as well," adds Producer Helen Shedd. "You learn, okay, this isn't working, so what can we make work?"
Suffice to say the pair has perfected the art of thinking on their feet. If you've ever seen a JBW campaign, then you're already familiar with the brilliant work of Briggs and Shedd. They create the vast majority of imagery for the brand, as well as for JBW's minimalist sister brand, Breda. It's easy to recognize Briggs' spontaneous-feeling photographs, people seemingly caught up in a moment of flash, and Shedd's distinctly moody and romantic style, often executed on film. 
"When I trust in my instincts, the work I make will reflect me in a way that you couldn't question – it's too close to my own sensibilities," says Briggs. 
At the same time, a quick scroll through each brand's website will give you a small sense of the breadth of each photographer's work and respective styles. Flexibility, they explain, is a prerequisite for the job. 
"I think what's kind of cool is, because I do trust my instincts and my intuition, that I don't need a certain flow to be present, to get the work. I feel like as long as the ingredients are there, whatever is necessary to get the shoot there, it doesn't really matter how it is structured. I try to have a lot of flexibility to that because I feel like that flow is necessary to allow things to be created and to be birthed," says Shedd. 
When it came to the RESERVE Chandelier shoot in Vegas, it was necessary to allow for that kind of flexibility for the concept to shine through. Briggs and Shedd wanted the story to play out naturally through the model's expression and the grandiose nature of the setting. 
"The original idea was there's a guy, and he is walking away from all of the stereotypical societal responsibilities of him, whatever that looks like… And this moment of thinking, I will go find myself – but you go to Las Vegas, which is a place of just substance abuse for the most part, right?" explains Shedd. "But that point of reaching the bottom is important to find the release, and to find not only the courage, but also the energy to move out into a new space that is truly you and truly your voice and feels more authentically yourself."
It all ties back to the initial message of the campaign, Instinct Is Everything – something that the brand aims to practice in all its creative endeavors. When it comes to Briggs and Shedd, their intuition hasn't led us astray yet.